text.skipToContent
text.skipToNavigation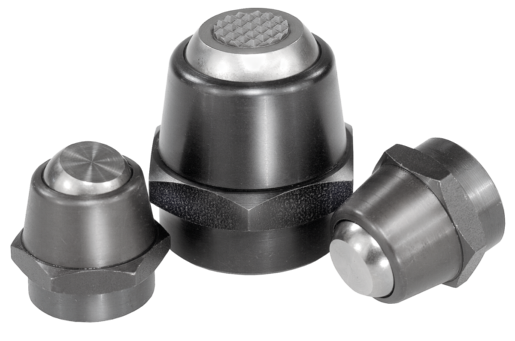 Self-aligning pads, swivel angle 14° and 20°, Form C, flattened ball, smooth face from 48,34 €

plus sales tax

plus shipping costs

Self-aligning pads, swivel angle 14° and 20°, Form M, flattened ball with carbide diamond grips from 65,45 €

plus sales tax

plus shipping costs
Description
Body steel.
Ball rust and acid resistant steel.
Form M with carbide insert.
Body black oxidised.
Ball bright.
Self-aligning pads are used to support and clamp unmachined and machined workpieces. They also serve as stops, supports and thrust pads in fixture and toolmaking.
Grub screws or threaded studs can be screwed and glued into thread D2 making a self-aligning pad with external thread.

Ball secured against rotation.
- Self-aligning pads can be swiveled.
- High load forces can be absorbed.
- The built-in o-ring keeps dirt and foreign particles out, which in turn guarantees reliable operation.